The recipient of 2016 Lee Hsun Lecture Series—Lee Hsun Lecture Award, Prof. Michael Schuetze from DECHEMA-Forschungsinstitut visited Institute of Metal Research, Chinese Academy of Sciences (IMR, CAS) from October 12 to 14, 2016.
During the visit, Prof. Michael Schuetze delivered a lecture entitled "Corrosion Protection of High Temperature Light Weight Materials". He demonstrated the scientific aspects as well as the technological aspects of high temperature corrosion protection of new light weight alloys based on chromium and intermetallic titanium aluminides.
Prof. Michael Schuetze is chairman of the executive board of DECHEMA-Forschungs institute in Frankfurt/Main and holds a professorship at RWTH Aachen University. His personal research areas are high temperature materials and protective coatings with focus on corrosion and corrosion resistance. He is author/ co-author of about 500 scientific publications, editor of several scientific books and member of 6 editorial boards of scientific journals on corrosion like "International Journal of Corrosion", "The Open Corrosion Journal" and "Materials at High Temperatures". He is Past President of the World Corrosion Organization (WCO) and of the European Federation of Corrosion (EFC), and member of several German and international scientific committees. His research has been acknowledged by numerous national and international awards such as Otto von Guericke-Award of AiF from German Federation of Industrial Research Associations, Cavallaro Medal from awarded by the University of Ferrara, the European Federation of Corrosion and U.R. Evans Award from Institute of Corrosion, UK and IROST, IR Khwarizmi Award.
Prof. Michael Schuetze visited IMR during the International Assessments of IMR in January 2015.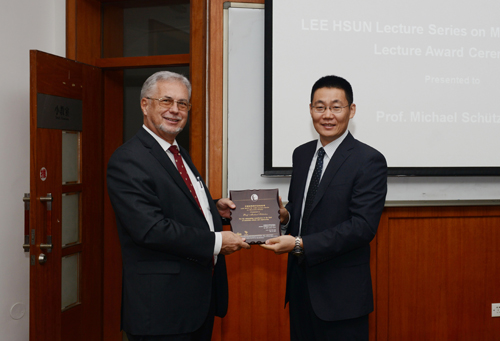 Prof. ZHANG Jian, the Deputy Director of IMR presents the plaque of Lee Hsun Lecture Series to Prof. Michael Schuetze. (Image by IMR)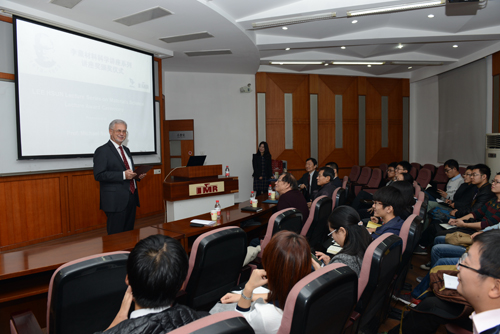 Prof. Michael Schuetze delivers a lecture. (Image by IMR)